To kickstart Fall 2018, we called upon our super-stylish
team at FabAlley to give us some new season sartorial inspiration and style predictions. So, here's our work-spy bringing you all things fashionable, fancy and fabulous from these gorgeous #AlleyGals at work! Take a look.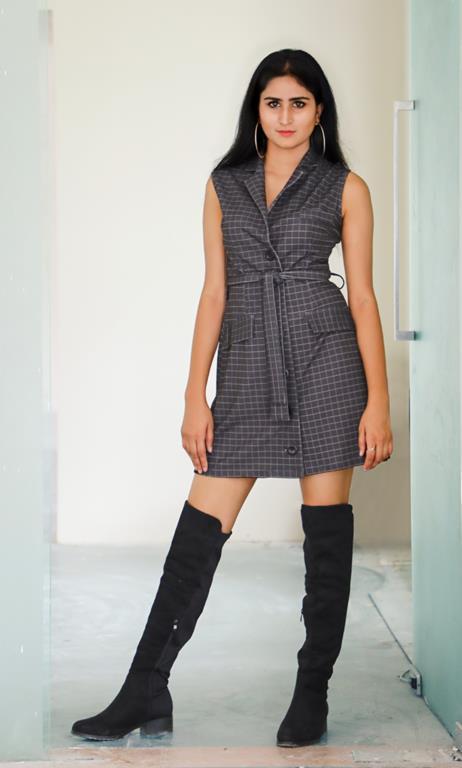 Trend Spotted: Sexy Suiting 
Vershanjali Chauhan
Fashion Designer
"I like to add a sassy edge to my outfits and I love blazer dresses! Quickly becoming the key-piece of the moment, I think blazer dresses are a boost of confidence at work and have a formal edge with a super contemporary vibe. Whether you're attending a business meeting or hitting a chic cocktail bar, a tuxedo style dress is all you need this season to top the charts. I love to mix-match things up too, wearing my favorite pieces in unique, innovative ways. For example: I am wearing my favorite knee-high boots with this tuxedo dress, making it look formal yet so bold!"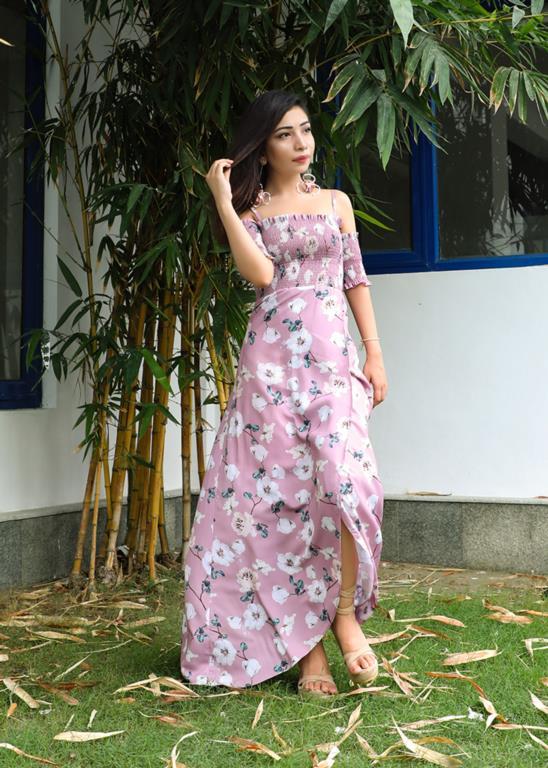 Trend Spotted: Autumn Orchard
Sushmita Baruah
Social Media & PR Manager
"I think I have a very feminine style; think pretty pinks, florals, maxi dresses, lace and sheer stockings! If you love dressing up girly like me, try florals in pale pink palettes or dark, bewitching blooms for autumn 2018. Also, I'm currently crushing on smocked fabrics. Smocking is so IN right now and fits you like a dream, especially if you have a body type like me (read petite!)! Whether you're into body-con or skimming styles, smocked fabric will absolutely suit your needs with a nice snug fit right where you want it and is perfect for everything from brunch to beach. Florals combined with smocked fabric make for an effortlessly feminine outfit that can be dressed up or down, depending on the occasion."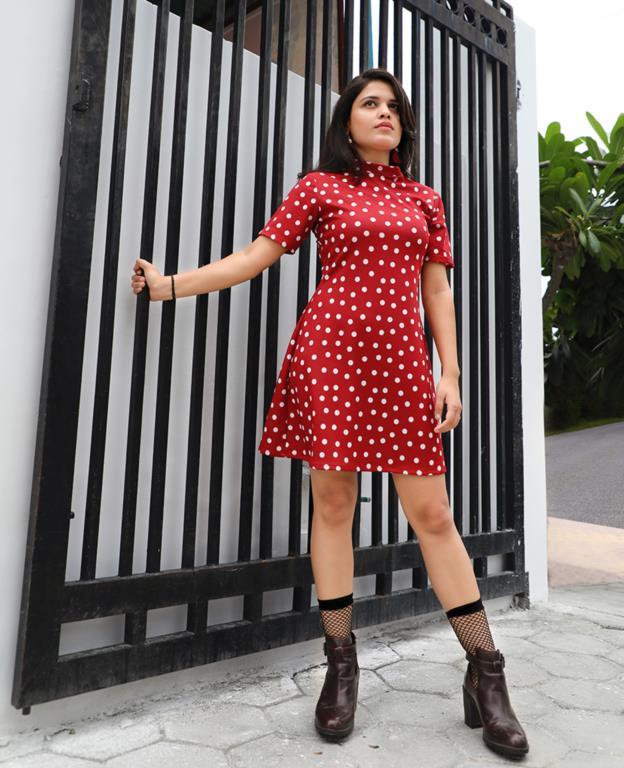 Trend Spotted: Ready to Polka? 
Shrishti
Sharma
Fashion Designer 
"I like to add a sporty-chic vibe to my girly outfits and keep it minimal, cool and casual. Given the return of everything '90s to fashion right now, my favorite dotted buddy is back with a bang too! From romantic blouses to statement accessories and retro swimwear, the print is taking over in every form this season. This rusty red polka dot dress is absolutely adorable and I paired it with fishnet socks and ankle length boots to give it an edge!"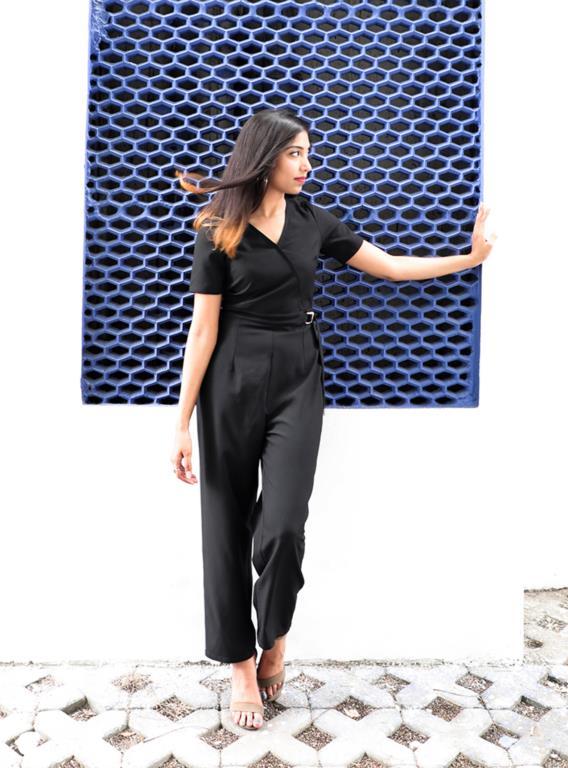 Trend Spotted: Jumpsuit Jive 
Anisha
Nanda
Senior Merchandiser 
 "I like well tailored designs in strong striking colours and defining cuts. This autumn, the one-and-done staple jumpsuit is coming back in full force and that makes me really happy as it's my personal favourite. It lengthens my frame and is comfortable yet so stylish! Part of pulling off this look is all about finding the right jumpsuit for you. In general, styles that are fitted at the waist and looser on the legs tend to be the most flattering. If you are tall, wide-leg jumpsuits that finish just above the ground will be highly complementary. If you are short, you may want to opt for a wrapped or fitted cropped style instead."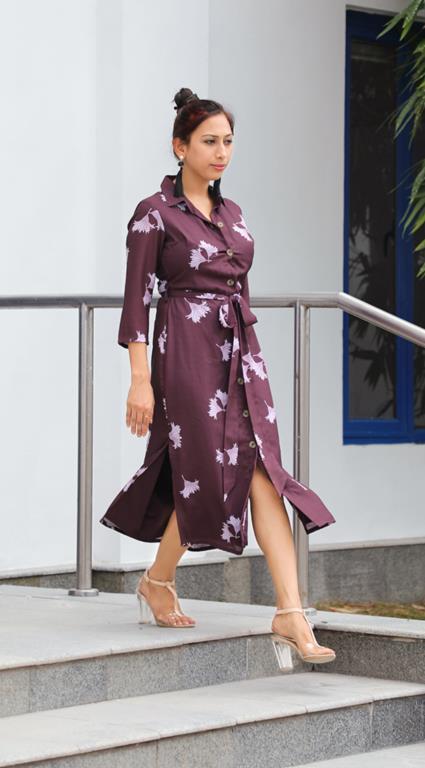 Trend Spotted: Mad for Midi
Khushboo
Pandey

Senior Merchandiser
"I absolutely love all things midi. You have the culottes, often in tropical prints or neutral colors, the midi skirt is often done in a pleated style with a fun texture or pastel color, the midi dress often comes with a statement print, florals and stripes being the most prominent at the moment. Team your midis with a pair of shoes that elongate your legs, this will make you look taller and add some length to your outfit which will balance the midi length. You can either go for a shoe color that's closer to your skin tone, or a pair of shoes that are either v-shaped in the front or open."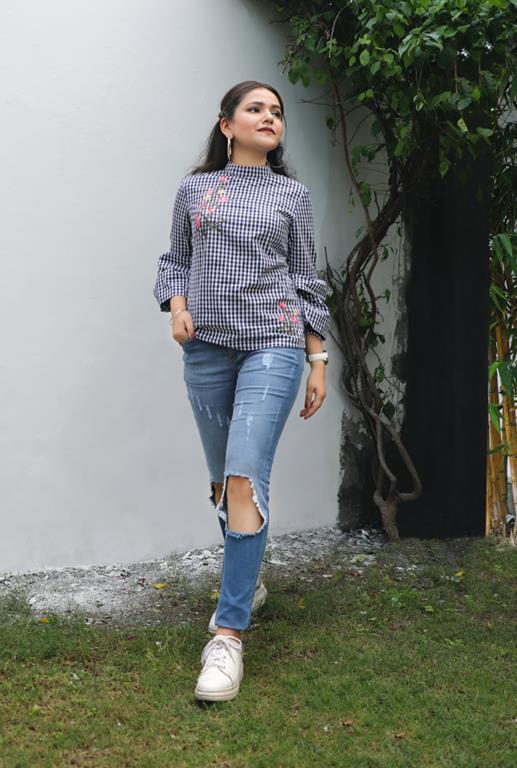 Trend Spotted: Check me Out 
Arminder
Kaur
Fashion Stylist
"I love to dress up casual and minimal, making comfort a priority. My go-to outfit would be the classic 'white tee – blue jeans' combo, but, with a little twist like a knotted crop top or black stilettos. At the moment, one print that is dominating both my wardrobe and the fashion town is checks. From trousers and blazers, the detail has now graduated to fun co-ords, asymmetrical tops and breezy skirts. I paired this particular floral embroidered ruffle checkered top with knee shorn jeans and white sneakers to give it a casual and sporty touch. I absolutely love how it makes me look both fun and elegant."